Monitor Competing Hotels Prices
Automatically monitor your competitors
Increase your profitability by tracking your competitor's prices.
Get insights on how your hotel and your competitors are performing on hotel search sites.
Eliminate manual price comparison to save weeks of time. Take timely decisions to grow you bottom line.
Price comparison at a glance
Monitor competitors prices
We provide accurate insight into your competitors' pricing strategies, enabling you to continuously measure and adjust your prices in order to remain competitive.
Price strategically
Pricing reflects your position within a market. With our data it allows you to react quickly to price movements, taking advantage of bigger margins.
Smarter pricing better profits
Setting a competitive rate for hotels is a constant challenge for property managers. A room priced too low will lose profitability, and if it's too high, potential guests will book elsewhere.
Are you interested in data only? We can offer you hotel rates data and much more
Compare with other hotels Check their room rates for the next 365 days
As the market grows more crowded, keeping track of it through traditional means becomes difficult.
Automated data gathering is cost effective and makes your life easier. We deliver accurate information about competitors' prices, comparing them with your own.
Price-savvy travelers are transforming bookings. Is your pricing too high – or too low? If you depend on your sales data to provide the answer, you need intelligent price tracking.
When the price changes you'll be the first to know
Analyzing historical data will help you prepare for the future
Who booked all their rooms and when
See how each competitor changed the prices over time
You have full control over the robot that collects the data
Refresh the data as often as you wish: daily or even hourly
Your neighbouring hotels have competitors' prices at their fingertips. Do you?

Competetive data from multiple channels
Understand your competitors' pricing strategies by following their prices across multiple OTA channels such as Booking.com, Expedia, Trivago and others.
Follow any number of competitors
Track the pricing moves of as many competitors as you need. You may include all the relevant properties in the competition set you define.
OTA placement information
Understand visually the position of your hotel in search result pages of selected OTAs. The page number and ranking of your hotel's best offer is plotted on a graph.

Rate Shopping Tool
Our state of the art hotel rate shopping tool allows you to compare the real-time pricing strategy on multiple distribution channels of your competitors.
Analyze rates on hotel OTA websites.
Benchmark Reports
Accurate rate reports to support revenue management decisions.
Make sure you are up to date with the latest price adjustments of your competitors!
Future Prices & Discounts
Verify your price positioning to the strategy of your competitors.
Reporting for 1 month ahead.
---
Competitive Set ("comp set")
A competitive set might be the most important tool hotel operators have at their disposal. It shows where your hotel stands against your competition on a daily/weekly and monthly basis. It's used to set rate strategies, develop marketing programs, even to decide what facilities and amenities to offer. It's a key information used by revenue management, sales & marketing and other department heads in daily decision making.
Our packages give you unlimited cities and unlimited hotels for a flat fee. That means you can get the rates for any hotel in the world. Choose the ones you wish to compare with. Distance, size, market segment, quality of service, online reputation, RevPAR Growth Index, and ADR are all necessary factors to consider when deciding your true comp set.
In the very competitive field of hospitality industry, your online reputation directly affects your sales volume. Thus, effective Hotel Reputation Management can help you to obtain a competitive advantage for your property in terms of revenue management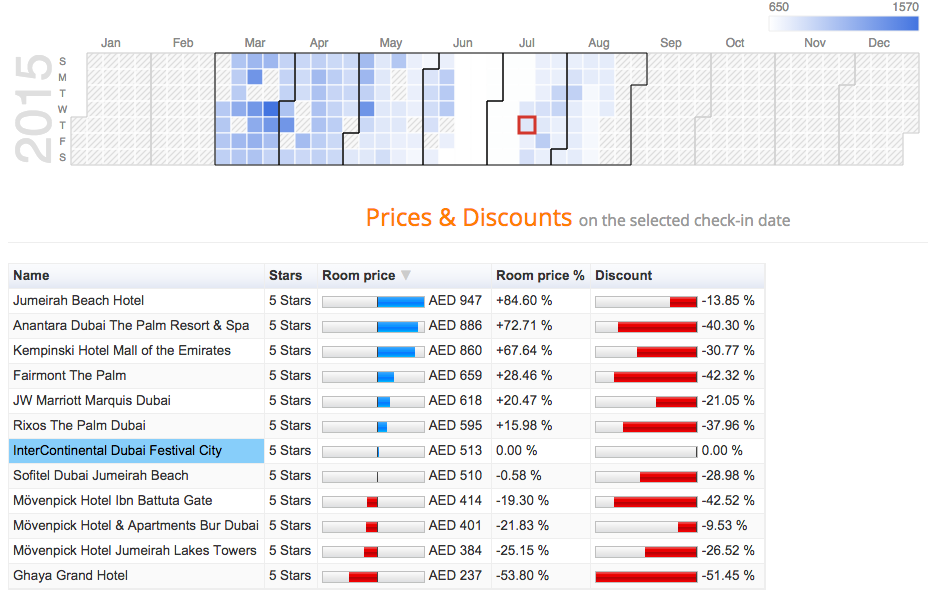 Are you interested to find out how we do it? We use a new kind of rate shopping robots
Prices and discounts ahead of the check-in date
Analyze how the prices and discounts of your competitors are changing ahead of the check-in date.
A 30-day rate buildup showing rate history by arrival date and competitive pricing trends.
We provide historical data as well as data for the next 30 days.


---
Prices, discounts and available properties
View prices and discounts for check-in dates as well as how many hotels still have rooms available on that day.
Information is presented as a bubble chart where size and color of the bubble helps you view more information at once.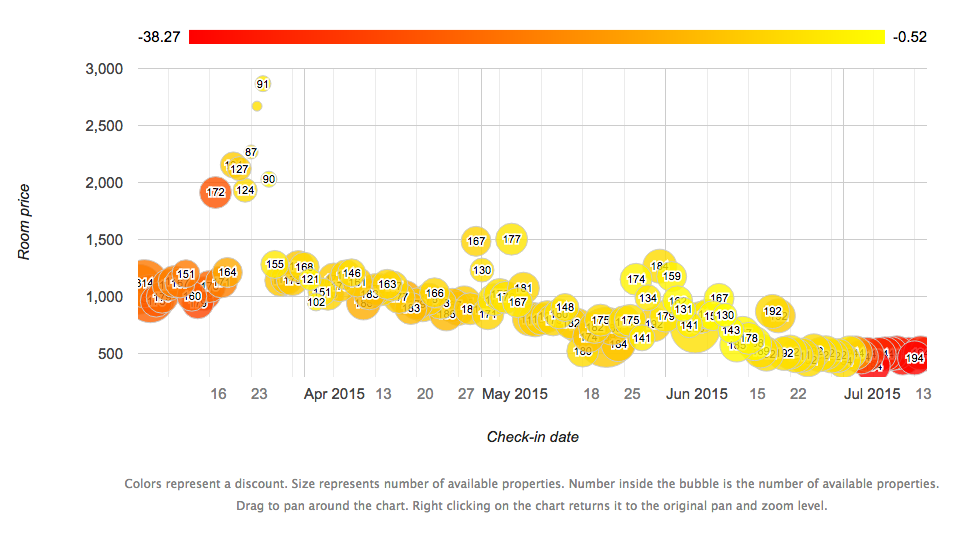 ---
Prices and discounts trend
Analyze overall trend of the prices and discounts.
We provide the actual trend for the next 30 days using current prices on future dates.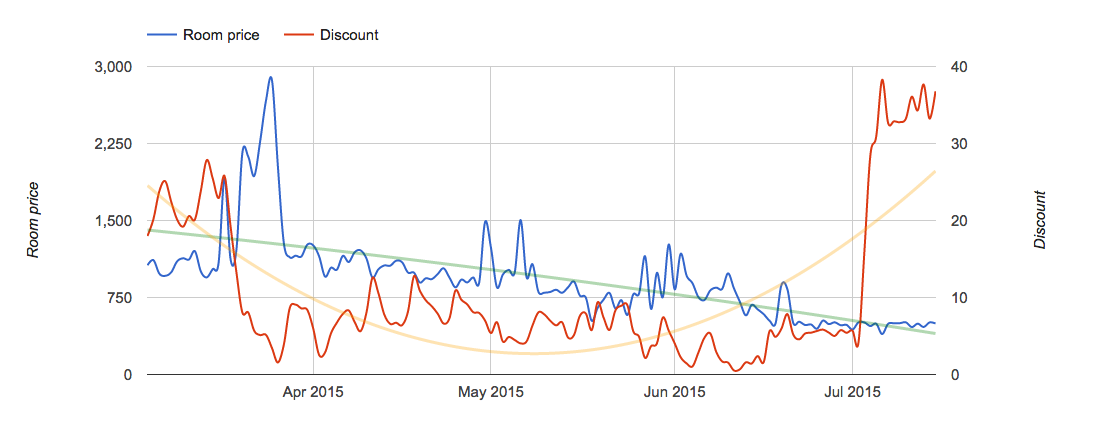 Rate-parity
Under pressure from the hotel industry and competition authorities in several European countries, Booking.com and Expedia have agreed to change their contract provisions with hotels pertaining to rates, availability and room types across Europe.
These limited rate-parity agreements, mean that hoteliers will be able to give Expedia and Booking.com or another booking site a different rates for the same room. They can also vary availability and room types offered among different online travel agencies.
Can Booking.com or Expedia retaliate against a hotel that gives a better rate, availability or room type to the online travel agency's competitor?
Booking.com and Expedia have agreed not to tweak their algorithms for a hotel based solely on the hotel giving better rates or terms to competitors. The online travel agencies will still control a hotel's sort order on a page and a hotel that doesn't play nice with the online travel agency will see their listing relegated to the bottom pages.

How we can help?
We will help you check that Booking.com or Expedia don't retaliate against your hotel because you give a better rate, availability or room type to the online travel agency's competitor.
You can check your position over time to make sure the OTA didn't change your sort position in their search results.
Check what other hotels might be doing regarding their positioning in OTAs search results.
Hotels that are good partners (those that offer he most attractive rates and inventory at the highest compensation levels) will be moved to the top of the sort order (assuming they are in demand by travelers) even if not contractually compelled to do so.
Hotels that insist on cutting off inventory availability to OTAs or offer lower public rates on their own websites will get jettisoned to the lower echelons of the sort order.
Generate Results in Hotels with Revenue Management We can offer you hotel rates data and much more
At the end of a day revenue management boils down to the optimization of financial results. By analyzing sales trends and forecasting results, using historical scenarios, price strategies are adjusted to maximize revenues.
Selling the Right Room to the Right Client at the Right Moment at the Right Price